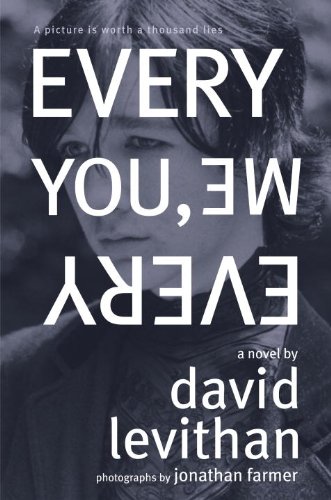 Release Date: September 13th 2011
In this high school-set psychological tale, a tormented teen named Evan starts to discover a series of unnerving photographs—some of which feature him. Someone is stalking
him
. . . messing with him . . . threatening him. Worse, ever since his best friend Ariel has been gone, he's been unable to sleep, spending night after night torturing himself for his role in her absence. And as crazy as it sounds, Evan's starting to believe it's Ariel that's behind all of this, punishing him. But the more Evan starts to unravel the mystery, the more his paranoia and insomnia amplify, and the more he starts to unravel himself. Creatively told with black-and-white photos interspersed between the text so the reader can see the photos that are so unnerving to Evan,
Every You, Every Me
is a one-of-a-kind departure from a one-of-a-kind author.
Now this is my second time reading a book by David Levithan. Now I can confirm that David has his own writing style. It is very distinguishable from others. He builds incredible setting by using simple words that include great emotion. One of the things that threw me off reading this book is the fact that half of the book has strikethrough paragraphs; I found it hard to read. However, the strikethrough helped in understanding the story bit by bit.
The novel had pictures in it. Each picture cried emotion. In fact, David was inspired by the pictures to write the plot.
The book was what I like to describe light dark. It was full of raw emotion and regret. Evan (the main character) is sad and depressed for the loss of his friend. He tries to find out who is behind sending him random pictures of Ariel. Ariel: we don't get to see her at all, but we read all about her from Evan's point of view. He lost his friends and apparently the loss of a friend was so hard on Evan, it stopped him from living.
Levithan successfully made this novel a unique one. I will be thinking about it for a little while.